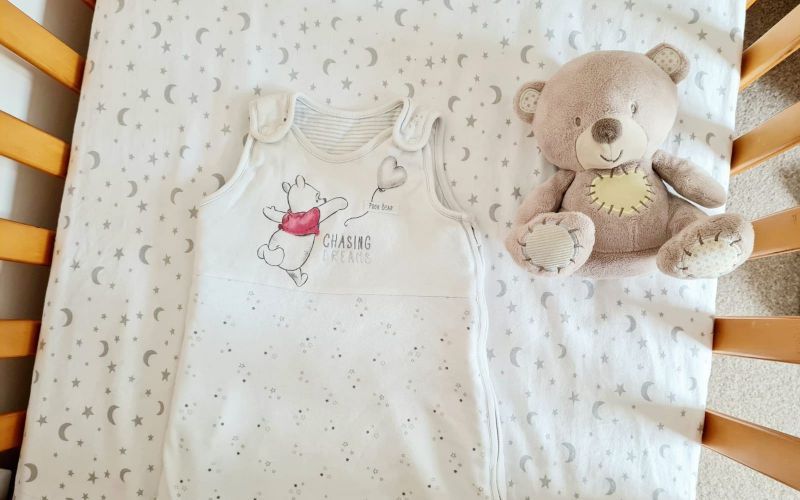 What Should Baby Wear To Bed?
It can be a minefield when it comes to choosing clothing to dress your newborn in. During
the early months you only need the basics to keep them warm and clean, practicality
overrules prettiness. The main objective is to keep their body temperature regulated by
dressing them in layers. The cute little vest and sleepsuits/onesies will suffice for quite a
while until they are moving about by themselves.
An important factor to be aware of is that night time clothing needs to be suited to the
room temperature; that may fluctuate during the night. Different number of layers are
needed during the changing seasons. It's vital to dress babies in the correct amount of
clothing to avoid over heating or getting too cold.
As well as clothing; the choice of bedding needs to differ too. The favourite choice of
beddings are swaddles, sleeping bags and cellular blankets. Newborns tend to be swaddled
for the first few months. As they grow out of the swaddle – you will know when this
happens as they start to fight it and fling their arms out, that's when you can move onto a
sleeping bag/growbag/sleep sack.
You may be tempted to dress your baby snug as a bug on cold winter nights, however, only
use sleeping bags more than 2.5 tog if it is very cold in the room throughout the night.
KEEP IT NATURAL
It may be obvious or not, do not put a hat on your baby's head at night time, they regulate
their body temperature by releasing heat through their heads. If you put a hat on them it
can cause overheating which can be dangerous. Some signs of overheating are heat rash,
flushed cheeks, sweaty head, clammy stomach, hot to touch, or rapid breathing.
I always suggest natural fibres, preferably 100% cotton for sleepsuits, vests, sleeping bags,
blankets, and sheets; as cotton allows the skin to breathe, feels great on the skin as tends to
be more durable with wash after wash!
TEMPERATURE GUIDE
It's not until you have a baby that you may think that you want a temperature gauge in the
room that they sleep in. Here's an indication on what is comfortable room temperature for
your baby.
Over 24 degrees – Too Hot
20-24 degrees – Very Warm
16-20 degrees – Comfortable (Ideal temperature)
Under 16 degrees – Too Cold
WINTERTIME CLOTHING
A baby may wake up in the night if they feel cold. The best layering to dress your baby when
the temperature drops, and you don't want to have the heating on all night is:
Cotton short sleeved vest
Cotton full length sleepsuit/baby grow
2.5 tog sleeping bag
Or two cellular blankets
If the temperature is exceptionally low, you could increase the tog of their sleeping bag. If
you swaddle them, you can add a cellular blanket on top.
SUMMERTIME CLOTHES
When it gets to above 20 degrees, you can safely drop down to a short or long sleeved vest
with a lower tog sleeping bag, it is a case of trial and error to begin with until you get to
know your babies likes and dislikes. If your baby is too hot, this will also lead to disrupted
sleep and difficulty to get to sleep. Ventilation within the room during the day will help
them to feel comfort too.
When it is above 24 degrees, your baby could be comfortable in just a short sleeved vest
and no sleeping bag at all. Be led by your baby's ques and needs as each baby is different.
The best approach is to have short sleeve vests a plenty, full length sleeved sleepsuits and
some long sleeve vests too.
TODDLERS
As your child reaches toddler age, you can opt for sleepsuits without enclosed feet, forget
socks though as they will be anywhere other than on their feet! You can still layer up with
vests underneath for winter warmth, it will become useful once they start potty training to
have two piece pyjamas for ease.
Some toddlers may not like to be enclosed in a sleep bag and could move to a lightweight
cot bed size duvet.
Try a few different combinations, you will be able to see and hear if your child is happy and
snug at bedtime, like a lot of situations as new parents, it's a case of trial and lack of sleep.
Having layers is the key and will help you and your baby get a better sleep.
SUGGESTED LINKS
Getting the temperature right – babies.co.uk
Temperature guide and what to dress baby in –  babysleepsite.com
How to dress a newborn – thebump.com