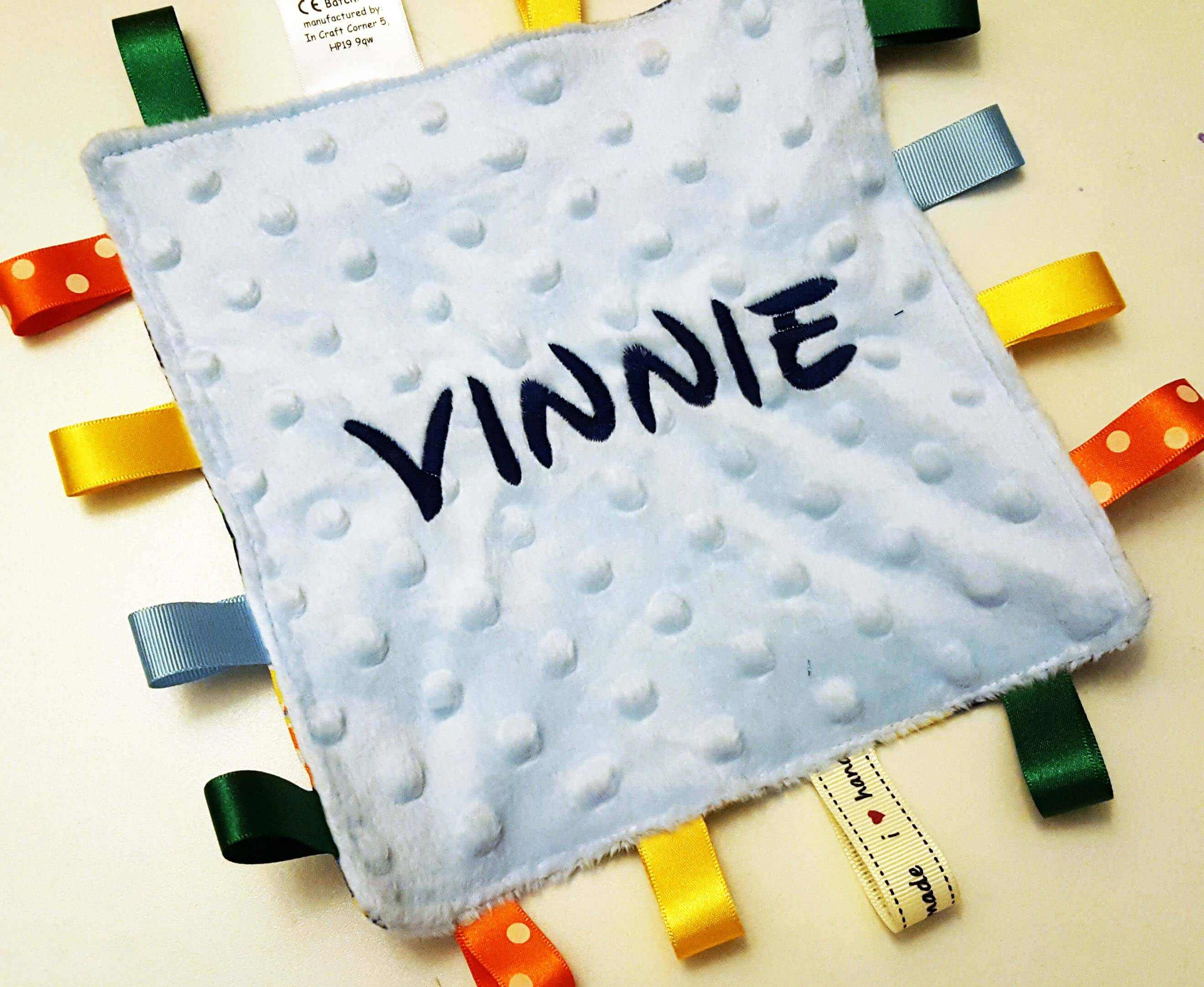 What is a tag comforter or a taggie blanket?
I get this question a lot, what is a tag comforter or taggie blanket?
They can be called so many different things from a blankie, comforter, tag comforter etc. But they all fit into the same category of a taggie blanket.
In essence its a textural toy that babies and toddlers love to fiddle with. The comforters are made with either a soft plush on both sides or a 100% cotton and soft plush layers. With looped ribbons added around the edge. Each layer adds a texture the child can feel, discover and improve their fine motor skills with.
You might have also seen taggie blankets with teething corners on for the child to chew. Or crinkle material in them to add another texture.
Yellow Elephant Taggie Blanket

Blue Monkey Taggie Blanket

Unicorns Taggie Blanket
Security Blanket
A taggie blanket held often enough by your baby can become a security blanket for them. It can aid them to go off to sleep or relax them during the day.
They can act as bonding squares given to young babies. Where the mother wears the squares close to her body for several hours to gather her scent. Then given back to the back so they smell the familiar scent. That technique can also work with taggie blankets. It helps make your baby feel safe when you can't be there.
If you're worried about the attachment to a taggie, it's normal to young children. If not a taggie blanket then it could be their favourite cuddly animal. It can be a way of giving them some security as they are exploring new environments.
What Size To Get?
Taggie blankets come in all sizes from small hand held size up to a blanket that can be used in a buggy or stroller. Theres is no right or wrong size to get. it all depends on the individual needs. You might find its easier to have a smaller one you can transport around in your bag. Or if you need a pram blanket and you want the added benefit of it having tags then thats great too.
Every parent is different in what they choose and I'm sure you will find the right one for you, whatever size you choose.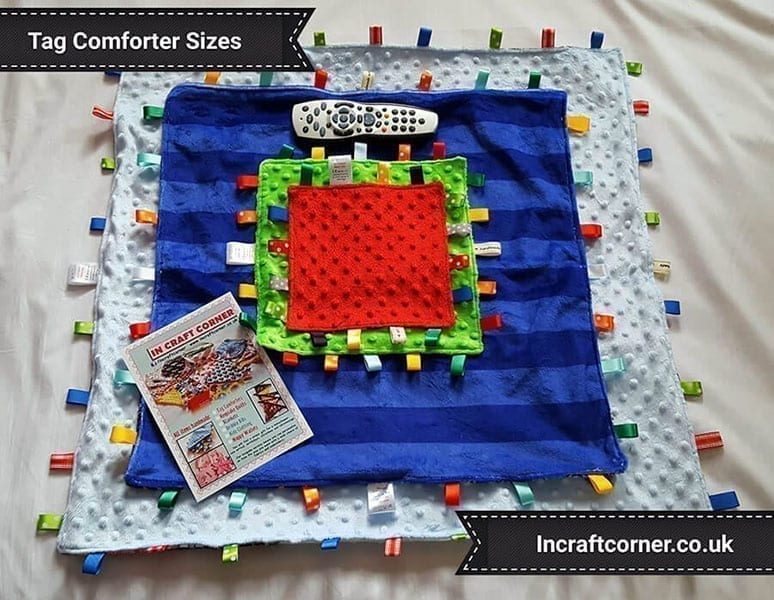 Our Taggie Blankets
I have created my own range of taggie blankets, called tag comforter, if you haven't already seen them, in 4 different sizes. The comforters have all the benefits I've listed above, as well as being able to be personalised with names or birth details.
This makes them very popular as gifts for new babies or given at baby showers, amoungst other occasions. If you have it personalised, it makes it a little bit more special to the person you are giving it to.
My designs come with a cotton front, soft plush back, and colour coordinated ribbons tags around the edge. If you check out the listings on the taggie blanket page there are many colourful option to choose from. Most can be personalised and different size options available.
Personalised taggie blanket
CE Tested
I'm not sure about other countries but here in the UK all toys need to comply to The Toy Safety Directive. Which you will be glad to hear we conform to those standards with out taggie blankets, cuddle clouds, teething rings and any future toys.
This is something you need to check with the seller, whomever you buy yours from in the future. It is common that many sellers don't know about the CE testing process or choose not to apply it to their toys. It's there for your safety.
With our's its on the sewn in tag, or it can be on any packaging that comes with the product.