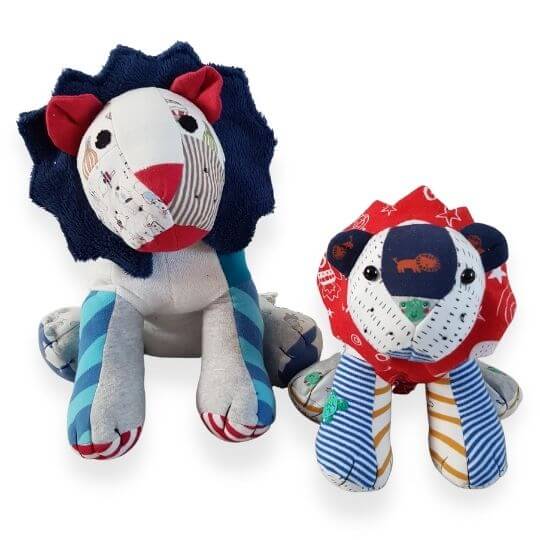 The Most Frequently Asked Questions About Memory Keepsakes
You're looking for a memory keepsake but then you think, how does this all work?
I get it all the time, what's the best way to send the items to you? How many items do you need? Can you work with this?
So why not answer all the frequently asked questions all in one place. I'm sure I will miss a question or two, so feel free to send me an email if you have a question that I haven't covered.
From me you can get memory blankets or memory quilts, memory bears and a variety of animals. Cushions will be soon, if they haven't already, added to my website.
Before you buy
You're in the planning stage, you have all these clothes but what do I do with them? Someone might have given you the idea to get a memory keepsake made or you have spent hours scrolling through Pinterest looking for ideas. Well this is where I can help you!
First thing to think about is how many items have you kept? If it's only a handful, anything less than 10 then I would say a Memory Bear or animal might be the best option for you. 5-10 items is the ideal amount for the smaller keepsakes, It's a struggle to use more than that. Remember if you have an outfit with a tutu, it can be possible to put that on them or use certain features like spikes from a t-shirt to create dinosaur spikes on the back. It's fun to try out different quirky bits on any keepsake.
If you have more than 15 items then you could consider a memory blanket, they are both the same thing but everyone calls them something different. They come in various sizes and using baby items as a guide I would say you would need approximately these amounts for each size:
Cot size – 15-20 items – 35 squares
Toddler Size – 20-25 items – 63 squares
Single – 30-35 items – 108 squares
Double – 35-45 items – 144 squares
Kingsize – 50-60 items – 196 squares
If you want to work it out from home I can usually only 2 squares from smaller size (newborn-3-6m) clothes and vests. The bigger size items I can usually get 3-4 squares out of them.
Yes I can make use of hats, socks, gloves and other small items you can think of.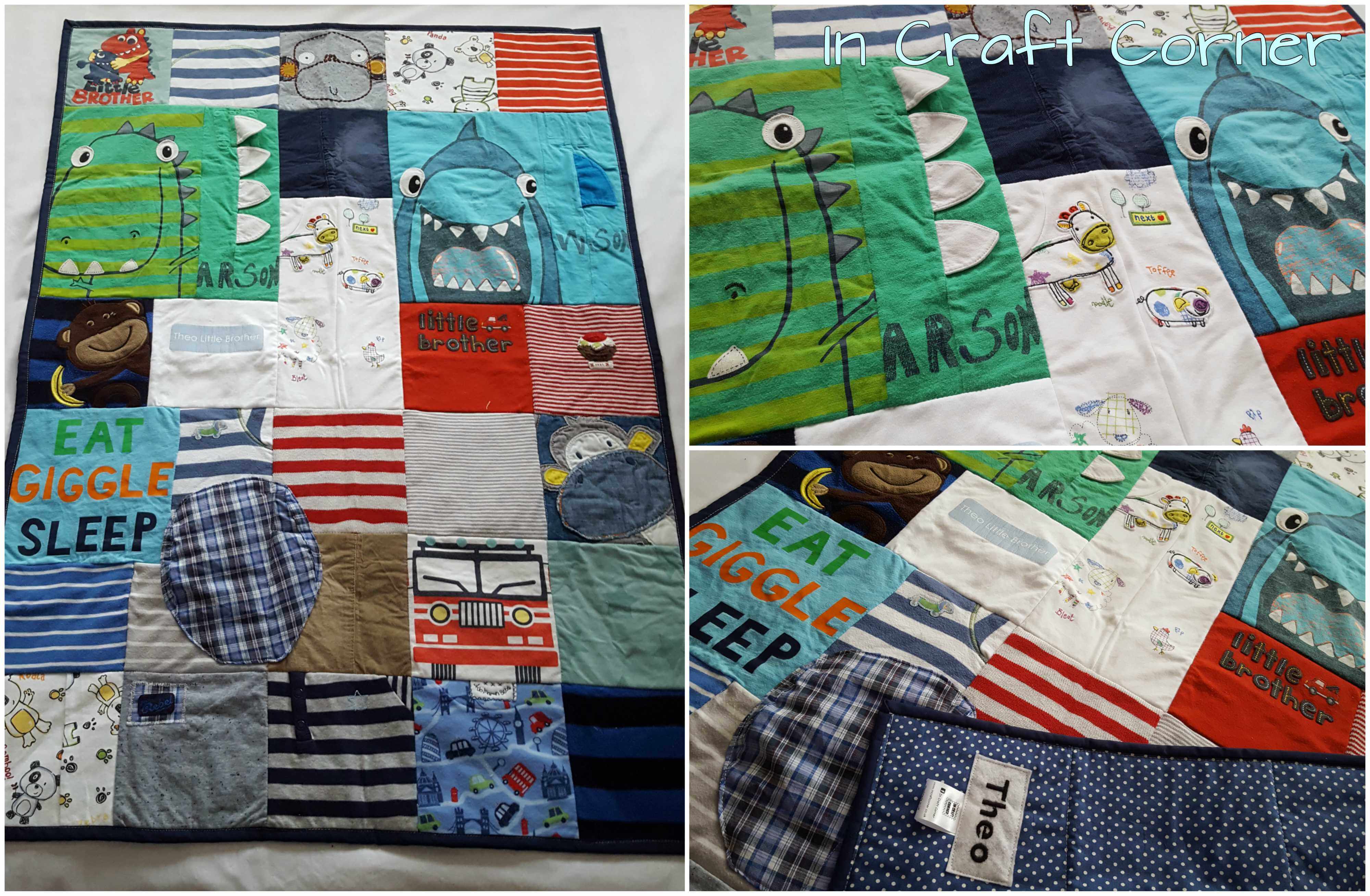 Adult Keepsakes
It's becoming increasingly popular to remember someone by getting a memory keepsake made out of their clothes. It's a lovely idea if someone passes, or if you are a sports person and you have kept lots of t-shirts from competitions. Band t-shirts, army tour t-shirts are also one's I've worked with but you get the idea, there are way too many possibilities to post them all.
Unlike with keepsakes using baby clothes, you don't need so many items it you plan to use adult clothing. You can get a Memory Bear made from just 1 item if you wish and you only need a minimum of 5 items for the smaller blankets/quilts.
As a guide using adult clothes you will need approximately:
Cot size –  5-10 items – 35 squares
Toddler Size – 10-15 items – 63 squares
Single – 15-20 items – 108 squares
Double – 20-25 items – 144 squares
Kingsize – 25-30 items – 196 squares
I have worked with many different types of fabrics and items so I know what works well in a quilt and what Its really difficult to work with. So If you have any denim or leather items and think they are too think them 99% of the time I can work with them.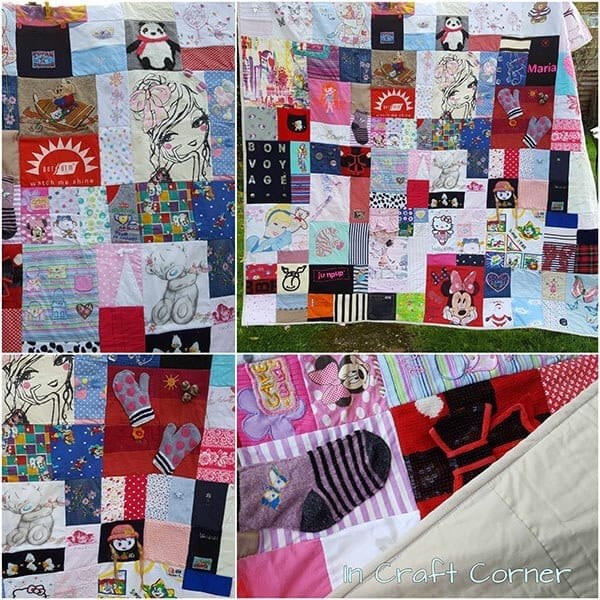 What goes inside the Memory Blankets?
You don't get to see what's on the inside but it's good to know, if you want to know, what goes into them. There's several different materials that can be used, a cotton or blended wadding and polyester wadding.
There is one big reason why I choose not to use polyester wadding. Yes it may make the quilt look a bit more puffy and padded but it doesn't wash well over time and clumps. There would be nothing worst than a lumpy quilt that it meant to be kept forever ruined after a few washes.
So I go with 100% cotton wadding for my quilts. It is thinner and you may not think it will be as effective, but it really is. The fibres are closer together which will keep you warmer in the long run if you use it as a cover. To most people it might not make a difference but I love to explain the difference between the two fillings in case you are expecting a puffy quilt.
What about the Memory Bears and Animals?
Simple, they just contain hollow fibre, similar to what cushions to have in them. I have used poly pellets in one to test a weighted bear but it doesn't hold the shape well and you need so many to get the right weight. So I gave up on that plan. If you are looking for a weighted bear then I'm sorry I won't be able to do that.
What now that I have all these clothes ready to go?
Once you have decided on the item you want and you have order how do you get the items me?
These are just my opinions, feel free to use a service you feel happy using.
ALWAYS used a tracked/signed service just so that the parcel can be traced from either end if we need to. Touchwood I haven't had any parcels go missing to or from me but thats because I've been able to track them if they haven't arrived when I expected them to.
Good options are Royal Mail, 2nd class recorded is cheaper than 1st recorded and doesn't take that much longer to arrive. Parcel force if your parcel is going to be more than 2kg, I think they have better insurance coverage too, Royal Mail prices for parcels over 2kg start from £15. Lastly you can use a courier like myhermes/pacel2go or others.
What happens now you have my clothes?
Once the parcel has arrived it gets stored safely and labelled so that I don't mix up orders and I know where it is when I need it. I sort through the items into piles and cut up the items with logos/pictures/words etc first. That's so I know they will make it into the item then I finish cutting up all rest of the items. If you have specific requirements, like all squares the same size or you want certain items used. Let me know at the time of ordering, I'll do my best to accommodate all requests, as long as they are possible.
All squares that need it get interfaced to stabilise them, stop them warping out of shape while sewing. The perfectionist, in me likes the neatness of the lines and It gives the finished item it's professional look.
What colour can I have on the back of the quilt?
Good question, you can choose the backing colour and edging, the bit that finishes off a quilt, from a list on the product pages. I stock most colours in plain or small polka dots design. If you don't know what to choose then that's ok too, I can put the top part together then see what colour works best.
How long do they take to make?
I like to give a timescale of 2-4 weeks, sometimes I can be less and on occasions slightly more. That's from the time I receive the item's not from time of ordering, as it could take you a week or more to sent the items to me. ALWAYS let me know if you need the item made but a certain date and I'll do my best to work that into my schedule.
Timescale does vary because I work from home and have young children to look after. So any waking moment I have I work on creating these masterpieces, as well as juggle other business hats. I am a one woman business not a larger operation.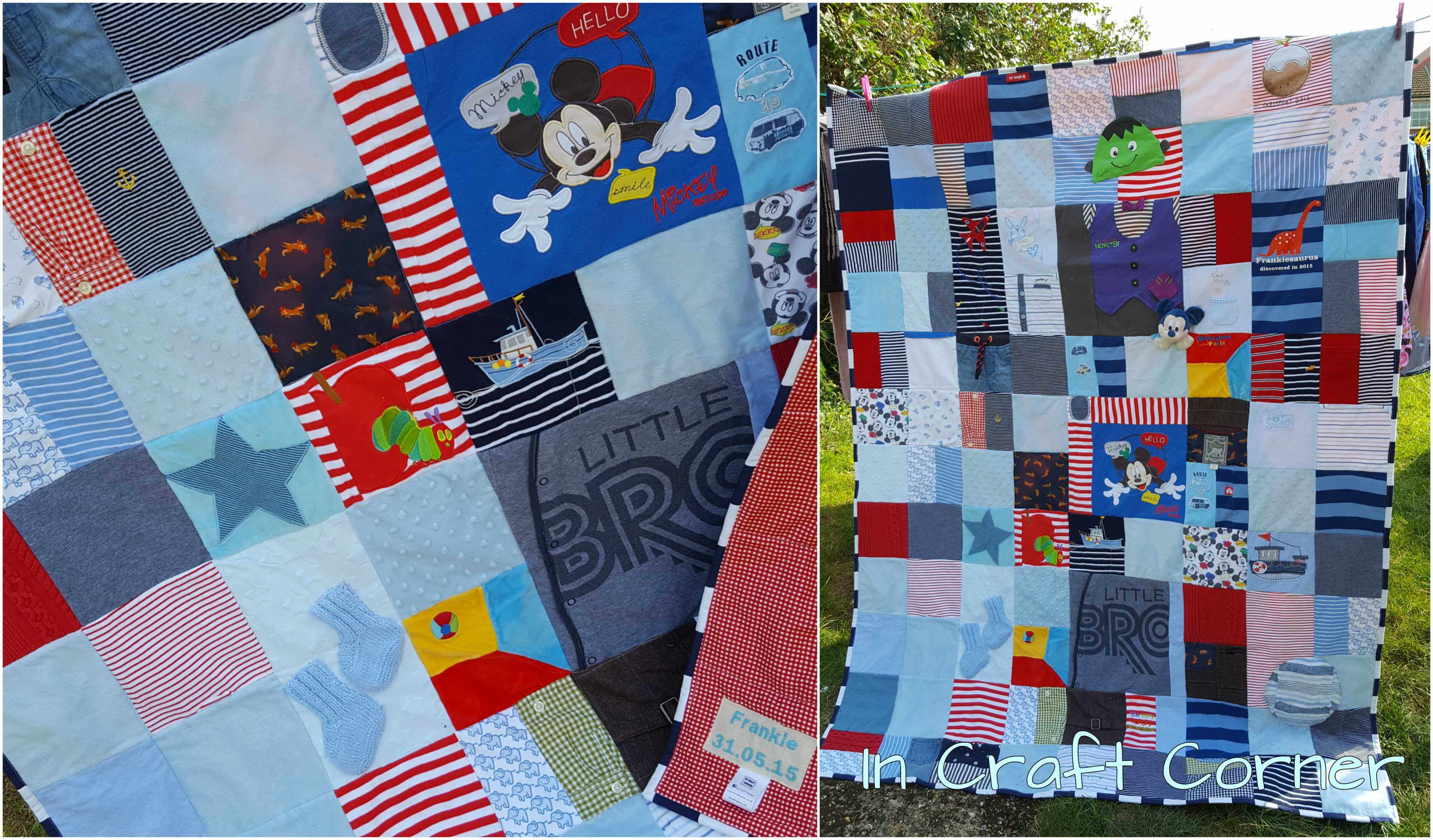 Many choose to have a little patch on the back with something like the child's birth details, a special message or something else. It might be for when you give it to someone they know the significance of the quilt being received. Its a lovely little touch that I like to include and completely optional, all included in the price.
All Complete!
Once the item is complete I take pictures and send them to you. I'll let you know when I will be posting too.
I hope that has answered the questions you might have had, if it hasn't then feel free to send me an email.
I've lost count now how many quilts, blanket's and bears I've made in my time, I love creating each one as they are all different. No two items are the same, unless you want them to be. If you want to read the reviews from past buyer you will find most of them in the recommended section on my facebook page.
If you do decide to buy from me go checkout the Keepsake Memory Items