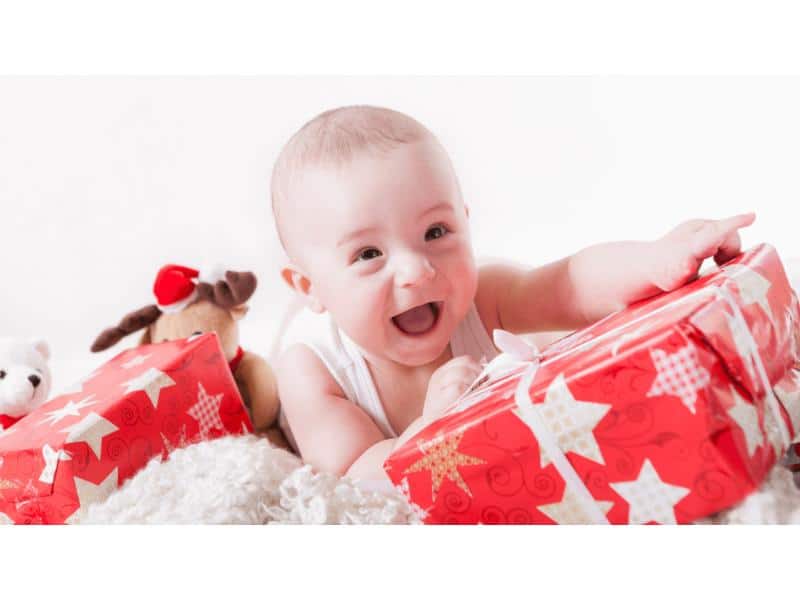 Top Baby Christmas Gifts to Give This Year
December 2020! What a year it has been, some of us have valued the increased family time and opportunity to be in our home environment, others have had to work overtime and have been faced with the unthinkable. I truly hope that the rest of the year treats you well; and we end the year with thoughts of compassion and gratitude for the loved ones in our lives.
I think you would agree that it is fulfilling to share special gifts at this time of year with our nearest and dearest, especially when we witness the squeals of delight and laughter that little babies make due to their senses being engaged with texture, colour, and sound; it truly is priceless! With the festivities in mind this Blog is all about ideas for baby Christmas gifts.
Top Suggestions
Buying tiny, cute clothes for babies is such a joy! There are many other types of gifts that you can share with new parents for their babies. I like to give personalised gifts;  they add that extra thought and nostalgia!
Personalised Gifts
Books are always a great treasure to keep; well into adulthood for some people. I think these are a great idea to consider. Personalised with their name on their cover making it relevant to them. There is a link to a company that produces some lovely items at the end of the Blog.
.
Choose from my collection of keepsake products to personalise with a Christmas touch – get your orders in quickly though to make sure they arrive in time for the big day!
Keeping it true to the festive period, you could purchase a personalised Christmas decoration such as a baby safe tree decoration! A keep sake that they can cherish and enjoy putting up with pride as they get older. (link for image idea) https://www.notonthehighstreet.com/craftheaven/product/baby-s-first-christmas-rocking-reindeer-decoration
First Baby Christmas Gifts
First baby Christmas gifts are ones that you will always remember, they need to be strong, durable, and safe. Natural wooden teethers and toys make a wonder gift for babies to play safely with and explore. I have listed some ideas in the link below ideal for first baby Christmas gifts.
Environmentally Friendly toys
Natural and environmentally toys are on the increase, investing in sustainable products also gives you peace of mind when buying ethically sourced gifts. Check out some lovely ideas of gifts for your baby in the links below and items for under 6 month old babies to enjoy.
Wooden puzzles are such fun to help your babies gain strength in their little hands as they explore shapes and colours too. https://mulberrybush.co.uk/wooden-toys-for-babies-and-toddlers
I hope you find these suggestions helpful, buying gifts for babies is so much fun, try to keep in mind how long they will get enjoyment out of the toy and how durable it will be. Babies may be cute and soft – they can be quite rough and ready when it comes to handling their toys! Bright, sensory, and environmentally toys are the way to go. Happy Shopping!
Suggested Links
Natural Wooden Toys for Babies